Utah Borders
There are 80 border crossings between Utah and its neighboring states of Idaho, Wyoming, Colorado, New Mexico (sort of), Arizona, and Nevada. Many of these are unpaved roads, most of which have no state border markings. 45 are paved; however, of these, four are paved only on the Utah side. None is paved only on the side of a neighboring state and left unpaved in Utah. The border crossings will be added to this page as they are found and if they can be identified. The information stated here comes from studying the Official Utah State Highway Map and from our travels to some of these places. The map has thus far been validated. There are many unpaved roads, often roads requiring four wheel drive vehicles with much ground clearance, that are not identified on or in the materials we use. We have discovered some of these. There may be more entry/exit points about which we have no information.
If venturing into the many uninhabited areas of Utah, use vehicles made for the adventure and take supplies and equipment that can support you, especially a lot of water. Do not go into these areas without a plan and a time table, and share this information with someone you trust who is not joining you. Part of the thrill of Utah is going on these adventures but if you take on nature, nature will always win.
---
Utah-Idaho Border, Rich County US Highway 89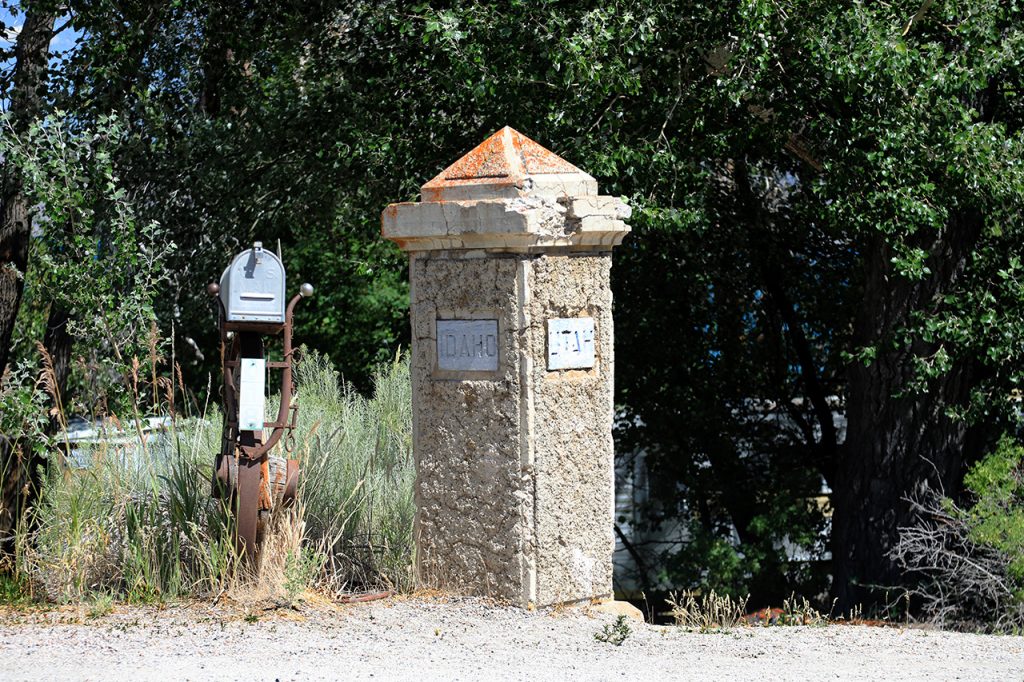 The monument setting forth the border between Utah and Idaho is of a type no longer constructed or set. While the the age of this marker is unknown, it is obvious that it is quite old and in poor repair. There are probably no other such monuments still in existence at any of Utah's borders or border crossings.
Location: at the border between Utah and Idaho, 4 mi/6.5 km north of Garden City, UT on US Highway 89 and 126 mi/204 km north northeast of Salt Lake City, UT
Official Utah Highway Map Coordinates: A-5
Latitude/Longitude: 42.000631 -111.408705
---
Utah-Idaho Border, Box Elder County, Utah Highway 42
Location: at the border between Utah and Idaho, 78 mi/126 km northwest of Brigham City, UT; 133 mi/215 km northwest of Salt Lake City, UT
Official Utah Highway Map Coordinates: A-2
Latitude/Longitude: 41.996724, -113.192080
---